Click on a picture for a larger version.
These chainmaille shackles are handmade from 16 gauge, 5/16" inner diameter galvanized steel links and black anodized aluminum. The galvanization means these shackles will not rust under even the most aggressive use, unless you plan to file away at them. The anodized aluminum links will retain their color through many uses, and have minimal rub off. We have also washed these shackles to get rid of excess black rub off.
Three patterns are used in these shackles: the main cuffs are European 4-1 edged with Half Persian 3-1, and the chain connecting the two cuffs is a variant on box chains.
The cuffs can accommodate a wrist (or anything else) as small as 1/2" all the way up to 7.5" in diameter. They are ~ 1 3/4" wide, and are separated by 4 1/2" of chain. The wide cuffs evenly distribute any stress put on them, and the chain is long enough to allow some movement...There are hundreds of hand coiled, cut, and closed links in these shackles, each closed with the utmost care. They have been inspected to make sure they are very comfortable.
ARESSHAK $33.00

Closed next to locks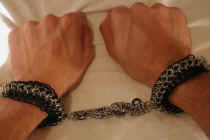 Shown cuffed tight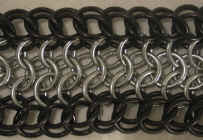 Main cuff pattern



Locks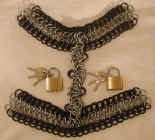 Opened next to locks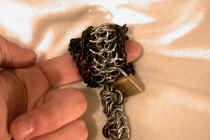 Locked tight around finger


Interconnecting chain pattern