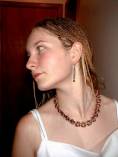 Angel in a flower pattern chain, copper and galvanized steel.

Lisa in a small gorget, with double drapes. Made of galvanized steel, in 4in1 and spiral patterns.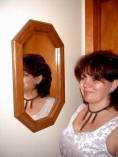 Darlene in a tri-dangle box pattern necklace, very formal and elegant. Shown in annealed steel and copper.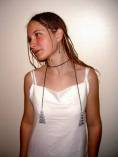 Angel in a new style necklace. Very long commercial chain with aluminum 4in1 triangles at the ends.